Mexico has a long and varied history of musical culture, and the fiddle/violin has played an important part in this history.
One of our guest fiddlers, Osíris Ramsés Caballero Léon, comes from the Huasteca, on the east coast of Mexico, an area the Huastecans controlled for 700 years until the Aztecs moved in — only to be ousted 50 years later by the Spaniards. The traditional ensemble in Huasteca is a trio featuring the fiddle backed by complicated rhythms from treble and bass guitars — and all the musicians sing as well.
Click here to hear audio samples and learn more about the concert/workshop by Osíris Ramsés Caballero Léon.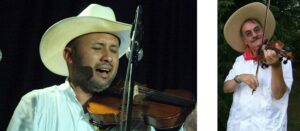 Another part of Mexico with strong fiddle connections is in the southwest, an area called Tierra Caliente. One of our workshops allows you to learn a tune from that area. Paul Anastasio has learned from experts in that region of Mexico, and in the videos for his fiddle-online concert/workshop, he performs various tunes from there as well as teaching a popular Mexican foxtrot. Click here for details.
Mariachi music and salsa are popular in Mexico and the fiddle plays a strong role in each, though we don't have workshops in this music as yet on the site. Mexico also has a strong history of classical violin, ranging from baroque musicians who moved there from Spain and Italy in the 17th and 18th centuries, up to more recent musicians, such as one of the world's best solo violinists, Henryk Szeryng. He became a Mexican citizen after Mexico took in 4,000 Polish refugees from WWII in 1942. Szeryng became Mexico's ambassador for culture, the first artist to travel on a diplomatic passport.
©2022 Ed Pearlman