"Hector the Hero" has become a popular fiddle tune in slow 6/8.  Some play it in a more upbeat way, as a waltz, but after learning the history of the tune, I find it difficult to play in any other way than as a lament.
On March 25, 1903, one of the heroes of Victorian Scotland, Hector Macdonald, known as "Fighting Mac," returned to his room from breakfast at a Paris hotel and shot himself. Two days later, the great fiddler and composer James Scott Skinner wrote one of his most famous and moving tunes, "Hector the Hero."
Raised in a small town near Dingwall, north of Inverness, Major-General Sir Hector Macdonald had risen quickly through the ranks of the British army, distinguishing himself with feats of daring, discipline and leadership in Afghanistan, Egypt, Sudan, India and South Africa. There were those who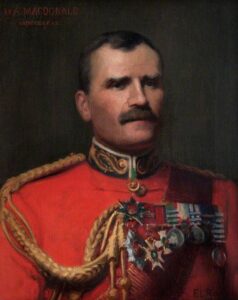 dubbed him the greatest Scottish soldier since William Wallace. Macdonald had been appointed aide-de-camp to both Queen Victoria and King Edward VII, and was feted throughout the UK, though his humble origins did not prepare him for the gushing plaudits of society. His high position in the army was made possible by the Cardwell Reforms of 1871, which allowed for promotion based on merit, and abolished the purchase of commissions in the army by well-off seekers of glory who were not always the most qualified of military leaders.
That morning at the Paris hotel, Macdonald was startled to see his photo in the international edition of the New York Herald, accompanied by a story about "grave accusations" of "immorality" against him. Macdonald, who was commander of British forces in Ceylon at the time, had been given an ultimatum in London by the commander-in-chief of the armed forces, Lord Roberts (whose life Macdonald had saved in combat in Afghanistan), to either leave the army or clear his name via court-martial. He was on his way to the court-martial when he made his fateful stop in Paris.
Before making that journey, however, Macdonald had paid a secret visit to his wife and 15-year-old son in Edinburgh. Nobody even knew about his 1884 marriage until his wife presented proof to authorities so she could take charge of her husband's funeral arrangements. This was certainly a shock to Macdonald's brother, who arrived in Paris to retrieve the body, only to find it gone. It was also a shock to the Scottish societies who then pressured Lady Macdonald to allow a public funeral with full honors. She refused, citing personal reasons and her husband's wishes. Perhaps in his last visit to her, he had indicated his intentions. We'll never know. We can only guess, based on the way some in the military had treated him.
After three overnight journeys by ferry and two trains, Hector Macdonald's body arrived in Edinburgh for a private funeral at Dean Cemetery at 6am on Monday, March 30, 1903. By Lady Macdonald's strict orders, no military from Edinburgh Castle were permitted to attend. The following Sunday, however, some 30,000 mourners stood in line at the cemetery gates so they could pay their last respects to "Fighting Mac." Memorials were later built at the cemetery, as well as in Dingwall and Mulbuie.
Three months after his death, Macdonald was exonerated by a commission report stating that no evidence of a crime could be found, and blaming the scandal on "vulgar feelings of spite and jealousy in his rising to such a high rank of distinction in the British Army."
Channeling the feelings of the nation at the time, James Scott Skinner's manuscript of "Hector the Hero" describes the tune as "The Coronach – all crying together." A coronach is a Gaelic keening song, usually improvised at a death, funeral, or wake. The first part of his tune, Skinner wrote, represented a "coronach sighing through the trees," and we can hear what he means when we listen to Skinner's own recording of the tune. He played the first part entirely on the A string, with harmonics and slides up and down the string expressing the feeling of heavy sighing. The second part of the tune moves into a mournful and poignant minor key.
Skinner's "Hector the Hero," has become a staple of Scottish music. It is a beautiful lament written in slow 6/8 time, which is something like a slow waltz, though a lament is rarely used as dance music. A prolific composer, fiddler, violinist, and dancing master, James Scott Skinner was a Victorian Scottish hero himself, attracting thousands to his concerts, and composing over 600 tunes, many of which are still central to Scottish traditional music. His funeral in 1927 attracted 40,000 mourners, including his friend Harry Lauder, walking behind the pipes of Pipe Major G.S. McLennan.
On the back of the manuscript for "Hector the Hero", Skinner urgently wrote, "Play in the Kirk on Sunday & get the Minister to announce, as this is a national Calamity – my eyes are full." He asked his publishers to make the tune available immediately, and managed to include it in his magnum opus, The Harp and Claymore, which was published in 1904. The tune was marked "suitable for pipes – piano – violin."
My first rather unremarkable encounter with the "Hector the Hero" was merely on paper in The Harp and Claymore. It was when I heard the moving rendition by the great fiddler, Buddy MacMaster, from Cape Breton, Nova Scotia, that I realized what a great tune it is.
The tune took on yet more meaning for me when I learned that Buddy MacMaster chose to play "Hector the Hero" for the funeral of his mother. I recently asked Buddy's niece, Andrea Beaton, in her own right a well-respected Cape Breton fiddler, what she knew about the tune. She wrote that "it's always been referred to as a funeral tune, as far back as I can remember. It's how I remember my elders talking about it and where I heard it played most often." The Cape Breton fiddlers have it right. Skinner wrote the tune as a lament, expressing the grief of a nation.
Skinner himself recorded "Hector the Hero" in 1905, 1910 and 1922. I'm not sure that most contemporary players of the tune know much of its origins, but it has nevertheless become popular for its beauty. It was recorded by the Bothy Band in Ireland in the 1970s, by Celtic Fiddle Festival (a trio of Irish, Scottish and Breton fiddlers), by Tommy Peoples, and by various pipe bands. The Scottish folk-rock band Wolfstone recorded it on fiddle, and the Transatlantic Sessions series features the tune as played by Aly Bain and Jenna Reid. Tony Cuffe and Tony McManus recorded solo guitar arrangements of the tune, and bands like The Munros turned it into an upbeat tune played on electric guitar.
There was hope for more information about Hector Macdonald during the centennial of his death in 2003, since military archive material held by the old India Office in London were classified for 100 years and then released. One researcher into Macdonald's life, Dr. Kenneth MacLeod of Ullapool, had left an extensive letter about his research with solicitors in Dingwall, and upon his death in Massachusetts in 1998, required the papers to be sealed until the centennial. Alas, in 2003, nothing new was revealed, or perhaps whatever was found was kept under wraps by someone for future release.
Without documentation, the story of Hector Macdonald remains a tragedy clothed in mystery. But thanks to James Scott Skinner, we have a beautiful tune to commemorate "Fighting Mac."
©2019 Ed Pearlman