Happy New Year!
Did you know that the usual melody for that "Auld Lang Syne" song we often sing New Year's Eve was not the original melody for the song?
If you'd like to hear the song as originally intended by the songwriter/poet Robert Burns when he published it over 200 years ago, listen to the beautiful version sung by Mairi Campbell.  Her duo with Dave Francis is The Cast, which sang this version for the movie Sex and the City.
Here's the original melody:

Burns collected the song, which was already old at the time, and added some of his own words to it, to create the song we know now.  The melody we're used to singing was apparently selected by George Thomson, the editor who included Burns's "Auld Lang Syne" in his A Select Collection of Scottish Airs in 1799 after Burns died. The melody we now use must have been popular at the time, but Burns regarded it as "mediocre."
Various sources have been named as people speculate on where the tune came from.  Some say it was composed by the popular English composer and friend of Handel's, William Shield for an opera called Rosina, which was performed on New Year's Eve 1782 in London. However, there's no melody in that opera that resembles Auld Lang Syne.
Others say that Shield was himself quoting an older Scottish melody which shows up in a number of 17th and 18th century Scottish tunes such as "Miller's Wedding" (which actually sounds more like the Burns song Comin Thru the Rye), and  "Lasses of the Ferry" (which sounds like a Cape Breton strathspey, but not Auld Lang Syne).
The tune that comes closest to the popular melody for Auld Lang Syne (as opposed to the original melody) is a strathspey called "Sir Alexander Don's Strathspey", which was apparently written by William Shield (but not for his opera Rosina).  This tune was published in the Beauties of Niel Gow around 1815, but since that was a compilation book, it was probably published somewhere else earlier.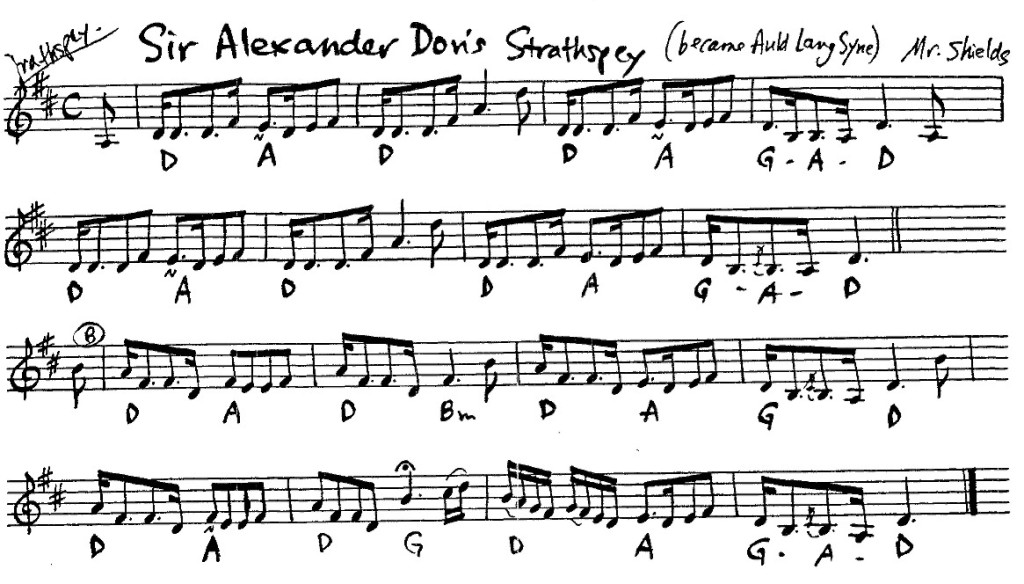 Whatever the history, the tradition of singing Auld Lang Syne at New Year's is honored round the world, and a melody honored by so many people for so long means more now than it did when it was new. So while we can enjoy the beauty of the melody Burns selected, it's hard not to appreciate a group of friends singing the song as we know it, locking arms and welcoming the new year.
© 2015 Ed Pearlman